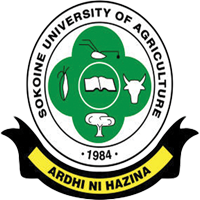 The following is the list of First year Undergraduate Students in the Academic year 2018/2019 available at the Directorate of Undergraduate Studies (DUS) without being registered and submitted to TCU. We have established that a number of students are attending classes without being registered and comply with SUA Regulations.
The following 13 students as listed below (including those who did not show up in the earlier Notice) are URGENTLY DIRECTED to STOP ENTERING CLASSES but rather visit the Directorate of Undergraduate Studies office on Tuesday 21st January 2019 at 11.00 am for further guidance before other disciplinary measures are taken.
NB:
Students who registered their concerns in the earlier Notice and are not appearing in this list are advised to re-check their SUASIS account to see the corrected anomaly and proceed with courses registration whose deadline is 31st January 2019.

| | | | |
| --- | --- | --- | --- |
| S/No | Reg Number | Full Name | Sex |
| 1 | EAB/D/2018/0085 | BAYNIT, NOELA T | Female |
| 2 | AQU/D/2018/0104 | RWEGASIRA, FLAVIUS O | Male |
| 3 | EAB/D/2018/0172 | BOSTA, ELIBARIKI MATHAYO | Male |
| 4 | ECB/D/2018/0234 | MAGODA, SEMENI B | Female |
| 5 | RAM/D/2018/0192 | UTENGA, SAMSON LINJANI | Male |
| 6 | AEA/D/2018/0141 | STEPHANO, WILIAM P | Male |
| 7 | ANS/D/2018/0097 | SWILA, BARAKA E | Male |
| 8 | BRD/E/2018/0578 | MATABA, VEDASTUS DANIEL | Male |
| 9 | BTM/D/2018/0247 | LEKOYA, PAKASI | Male |
| 10 | EAB/D/2018/0031 | JOHN, GRADYNES C | Male |
| 11 | FOR/D/2018/0270 | CHOGGA, JOSEPH James | Male |
| 12 | ANS/D/2018/0191 | ADAM, INOCENT S | Male |
| 13 | EAB/D/2018/0018 | JOHN, LEONARD G | Male |
Issued by
The Office of the Director
Directorate of Undergraduate Studies