Among the major aims of FPT are to train skills; e.g. in using equipment and in carrying out routine operations; to provide knowledge; e.g. of materials and processes; to develop abilities; e.g. of planning, organizing and communicating; to foster attitudes; e.g. of awareness on cost and efficiency implications and social and economic interactions.
Based on the above requirements for FPT and existing cooperation between SUA and Kilombero Sugar Company Limited (KSCL), on 4th May 2019, KSCL management team visited SUA specifically the College of Agriculture to discuss issues on Field Practical Training and other opportunities that would link SUA and KSCL. The meeting had two sessions, the courtesy call and discussion with CoA staff and a public meeting with CoA students.
SUA and KSCL Members present
The meeting was attended by Dr. Baanda A. Salim, Head of Department of Engineering Sciences and Technology (DEST) who was also acting as Principal of College of Agriculture; Dr. Anthony Z. Sangeda, FPT Coordinator – College of Agriculture; Dr. Boniphace H.J. Massawe ,Representative of Head of Department of Soil and Geological Sciences; Dr. Luseko A. Chilagane, Representative of Head of Department of Crop Sciences and Horticulture; Dr. Leonard S. Mwankemwa, Representative of FPT Coordinator – Department of Engineering Sciences and Technology;    Daniel M. Nhunda, FPT Coordinator – Department of Soil and Geological Sciences; Mr. Seif Mkwachu, Field Manager –KSCL; Mr. Joseph Lugaimkamu, GM-Corporate Affairs –KSCL; Mr. Abdul Hamid Masai, Training Manager –KSCL and Mr. Beda Marwa Chacha, GM Human Resources –KSCL
Students Attended
Total of 295 students who are 2,3 and 4th year from BSc. Agriculture general, Horticulture, Agronomy, Food Science and Technology, Agricultural engineering, Irrigation & water resources management and Bio processing & Post harvest engineering attended the meeting
Courtesy call for KSCL staff to the office of the Principal
After their arrival, the KSCL staff made a courtesy call to the office of the Principal CoA where they had a short meeting with academic members of staff. The meeting was opened by the College FPT Coordinator, Dr. Anthony Sangeda, who gave a background on the existing relationship between SUA and KSCL and the aim of the meeting. He then gave a word of thanks to visitors and welcomed members for the meeting.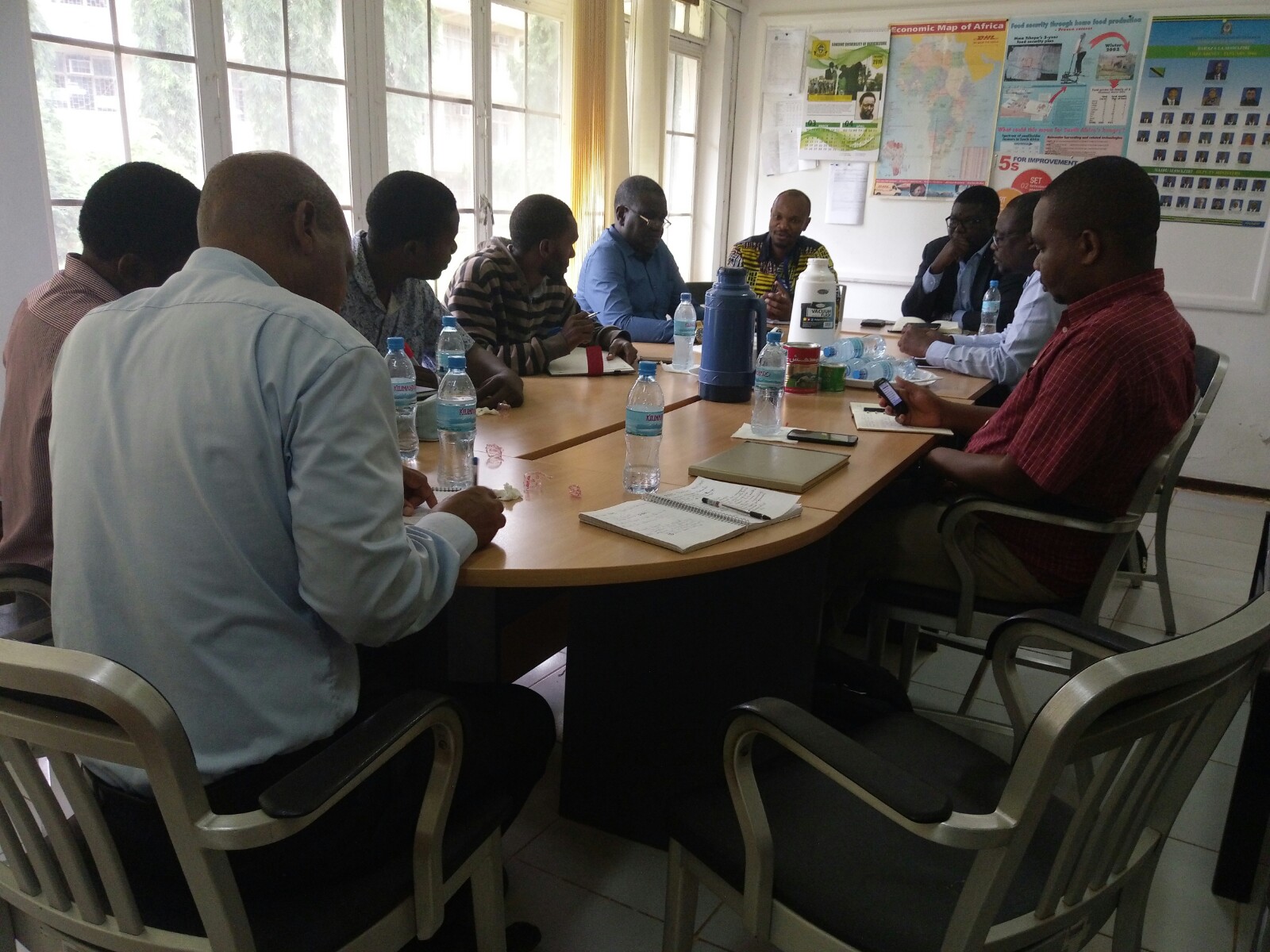 Afterwards, the acting Principal by then, Dr. Salim Baanda made an introduction of all the SUA staff present at the meeting including the six departments under the College of Agriculture. He then appreciated that KSCL is one of the potential employer for SUA graduates and therefore KSCL is a great partner to CoA and SUA at large. The meeting with CoA staff was followed by another one with students from the above mentioned degree programmes done at Multipurpose Hall.
Issues presented by KSCL Management to CoA staff and students
The KSCL training manager, Mr. Masai, presented on behalf of the KSCL team the following Opportunities found at KSCL such as,
Study tours/ field excursions. KSCL gives opportunities to SUA students to visit them for relevant field excursions. 
Internships. The company has a special programme for interns after completion of undergraduate studies.
Bursary scheme/scholarship. KSCL provides scholarship to highly performed students who complete form IV and VI, some of them are even here at SUA.
Management in Training for graduates (MIT). This programme prepares graduates to become senior managers through intensive and continuous training. The program is conducted for three years and it requires graduates with high GPAs. Another program deals with normal trainees who are trained for a year then the qualifying ones are employed.
Employment to graduates. Priority of employees include those students who did FPT with KSCL with outstanding performance in all aspects including attitude.
The KSCL training manager also spoke about field practical for students. He said, KSCL has its procedures and regulations for students who are interested to conduct their FPT at KSCL.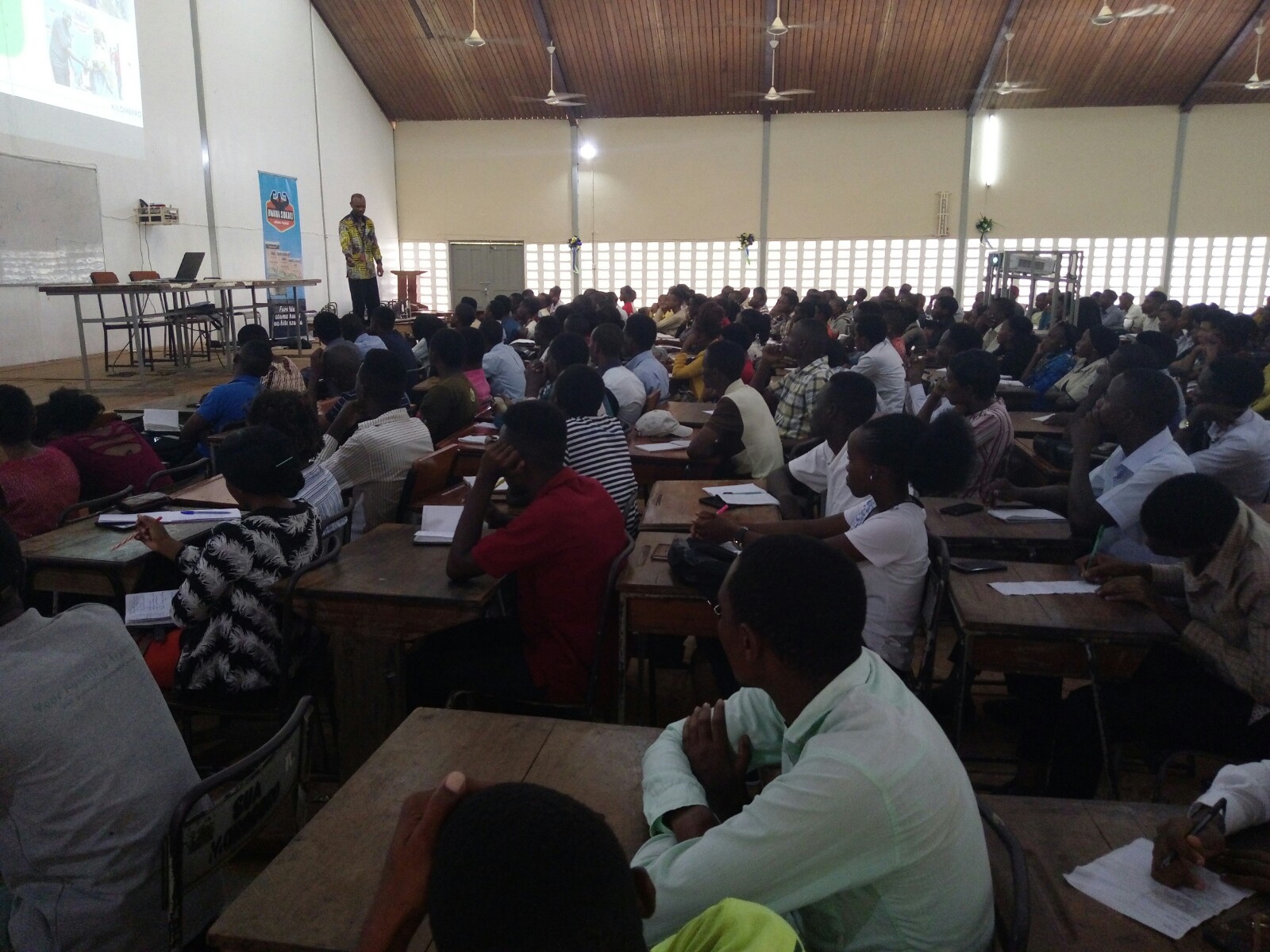 Relationship with KSCL
KSCL senior staff promised SUA that they are ready to strengthen this relationship even by providing special training (as guest speakers) to SUA students on practical field skills in related fields including crop production, wetlands management, human resources management etc. When requested, the service will be done using KSCL funds.
Thereafter, students were allowed to ask questions. A number of good questions were asked and answers were provided by KSCL team. 
Way forward and Closing
After the question and answers session, the College FPT Coordinator Dr. Anthony Sangeda gave a word of thanks to the Training Manager and the KSCL team in general on behalf of the Principal CoA and Sokoine University of Agriculture for availing their precious time to come and talk to SUA community. He further said that CoA and SUA will continue to cooperate with KSCL and perpetuate the Industry-Academia partnership. He welcomed KSCL for the interview session of FPT students for this year intake to be done in June 2019. He also thanked CoA students who participated in the discussions and showed interest to work with Sugar companies including KSCL in FPT and other programmes. Thereafter the meeting was postponed around 2.55 pm.