Overall, the workshop witnessed various ICT stakeholders from inside and outside the campus commenting positively on Sokoine University of Agriculture for coming up with a curriculum that will make students and graduates of higher education have more practical skills than just theory.
The one-day event took place at the Solomon Mahlangu College of Science and Education (SMCoSE) in Mazimbu campus, Morogoro Tanzania, and was officiated by the Principal of the College, Dr Geofrey Karugila on behalf of the Deputy Vice Chancellor (Academic), Prof. Maulid Mwatawala.
External stakeholders who attended the event came from the Tanzania Commission for Science and Technology (COSTECH), Tanzania Telecommunications Corporation (TTCL), e-Government Agency (e-GA), University of Dodoma (UDOM), University of Dar es Salaam (UDSM), Mzumbe University (MU), ZATANA Co. LTD, and Tanzania Revenue Authority (TRA). 
Internal stakeholders from Sokoine University of Agriculture came from Department of Education, Department of Mathematics, Informatics and Computational Science, Sokoine National Agricultural Library (SNAL), Centre for Information and Communication Technology (CICT), Directorate of Undergraduate Studies, Quality Assurance Bureau, and ongoing and graduated SUA students. 
The Director of Undergraduate Studies, Dr. Nyambilila Amuri, and Director of Quality Assurance Bureau, Prof. Gratian Rwegasira were present to monitor and guide how the Local Taskforce (LTF) team members and Subject Matter Specialist (SMEs) adhered to guidelines and principles of curriculum design and development as per Sokoine University of Agriculture (SUA) and Tanzania Commission for Universities (TCU).
About the Curriculum
This curriculum was jointly developed by the EEISHEA Project, Centre for Information and Communication Technology (CICT) and the Department of Mathematics, Informatics and Computational Sciences (DMICS). 
The curriculum aims at equipping graduates with knowledge, skills and competences for employability and self-employment. It will be delivered through Student Centered Learning (SCL) approaches and applying relevant e-learning (E-L) tools. 
The Curriculum will serve as "best practice" within the Higher Education institutions in Tanzania where relevant elements of entrepreneurship, innovation and sustainability will be integrated. 
Unique features of the curriculum for B.Sc. ITIN which will be hosted by DMICS at SMCoSE include the use of Student Centred Learning approaches where each semester involves a mini project for students to execute and foster practical skills. 
The proposed semester project intends to solve existing societal problems emanating from the IT industry. In so doing students will acquire not only skills but also competences.
The external stakeholders appreciated SUA for designing such a curriculum which gives more time for students' experimentation and practical skills through semester projects. Furthermore, the stakeholders' urged the need to introduce a strong collaboration between the Government, IT Industry and Academia (GIA) through a Helix Model so that Intended Learning Outcomes (ILOs) of the BSc. ITIN are realized.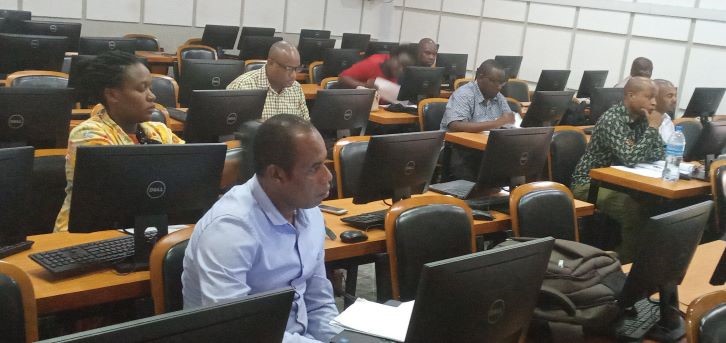 Some of the participants following discussions during the stakeholders' workshop at the video conference room (SGLB 2) at Solomon Mahlangu Campus on 17th May 2021
Other Universities in Africa developing such curriculum include Kwame Nkrumah University of Science and Technology (KNUST), Kumasi; University of Energy and Natural Resources (UENR), Sunyani, Kilimanjaro Christian Medical University College (KCMUCo), Moshi and The State University of Zanzibar, (SUZA) Zanzibar.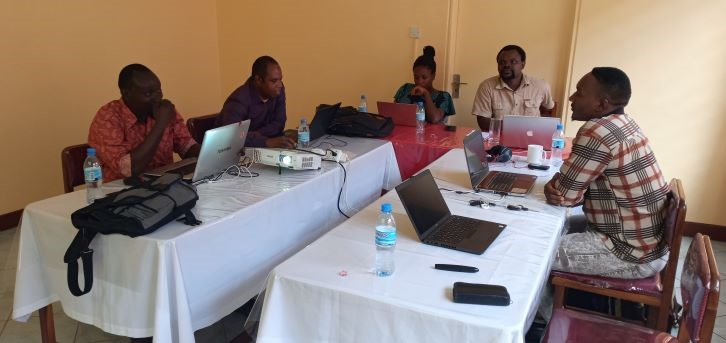 SUA subject matter specialists incorporating stakeholders' comments to the new curriculum after the workshop
About EEISHEA Project
EEISHEA stands for Enhancing Entrepreneurship, Innovation and Sustainability in Higher Education in Africa. It is a 4 years project funded by EU - Erasmus+ programme. The project aims to initiate sustained educational change in higher education study programmes to ensure curricula that are highly relevant to the contemporary economic and social needs of Africa. 
For more information, visit : https://eeishea.org/ and https://bsulearning.sund.ku.dk/
Read also the following related Articles: