The Sokoine University of Agriculture (SUA) has signed a Memorandum of Understanding (MoU) with the Private Agricultural Sector Support (PASS) through its Agribusiness Innovation Center department to establish Incubation centers that will help young graduate to establish and develop various businesses in Agricultural sector. The event took place on Wednesday 18th July, 2018 at Sokoine University of Agriculture.
This agreement will enable young entrepreneurs  at Sokoine University of Agriculture to acquire capital as well as various resources in specific areas with the aim of preparing them to become entrepreneurs and owner of large scale agricultural projects.
The Private Agricultural Sector Support (PASS) has planned to spend more than two billion shillings to facilitate the establishment of 100 agricultural startups projects for graduate from the Sokoine University of Agriculture (SUA). The funds provided will focus on the establishment of 100 pilot projects at the university through special training and experimental programming (incubators) aimed at providing experience for these young entrepreneurs.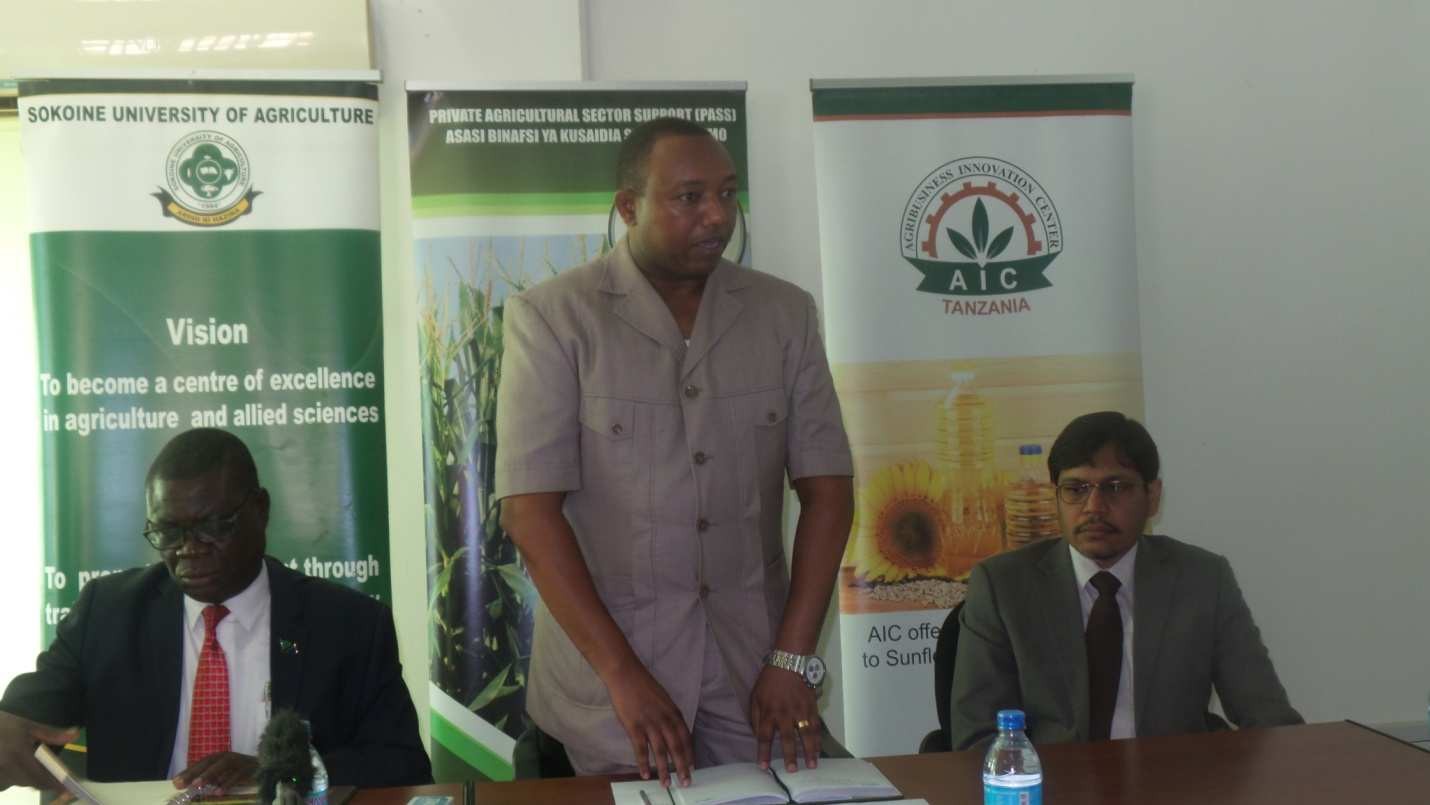 Speaking about the programme and agreement PASS Director Mr. Nicomed Bohay said that the priority will be given to entrepreneurs involved in greenhouse production, fish breeding, poultry, goats, processing and small-scale production of agricultural products for domestic and overseas markets.
Through its Department of Agribusiness Innovation Center (AIC) PASS has developed this program after seeing many graduates who want to involve themselves in Agriculture business and entrepreneurship failed to do so mostly due to lack of capital and training. Sokoine University of Agriculture (SUA) has provided a conducive environment that will ensure our youth find a place to start before standing on their own.Said Mr. Bohay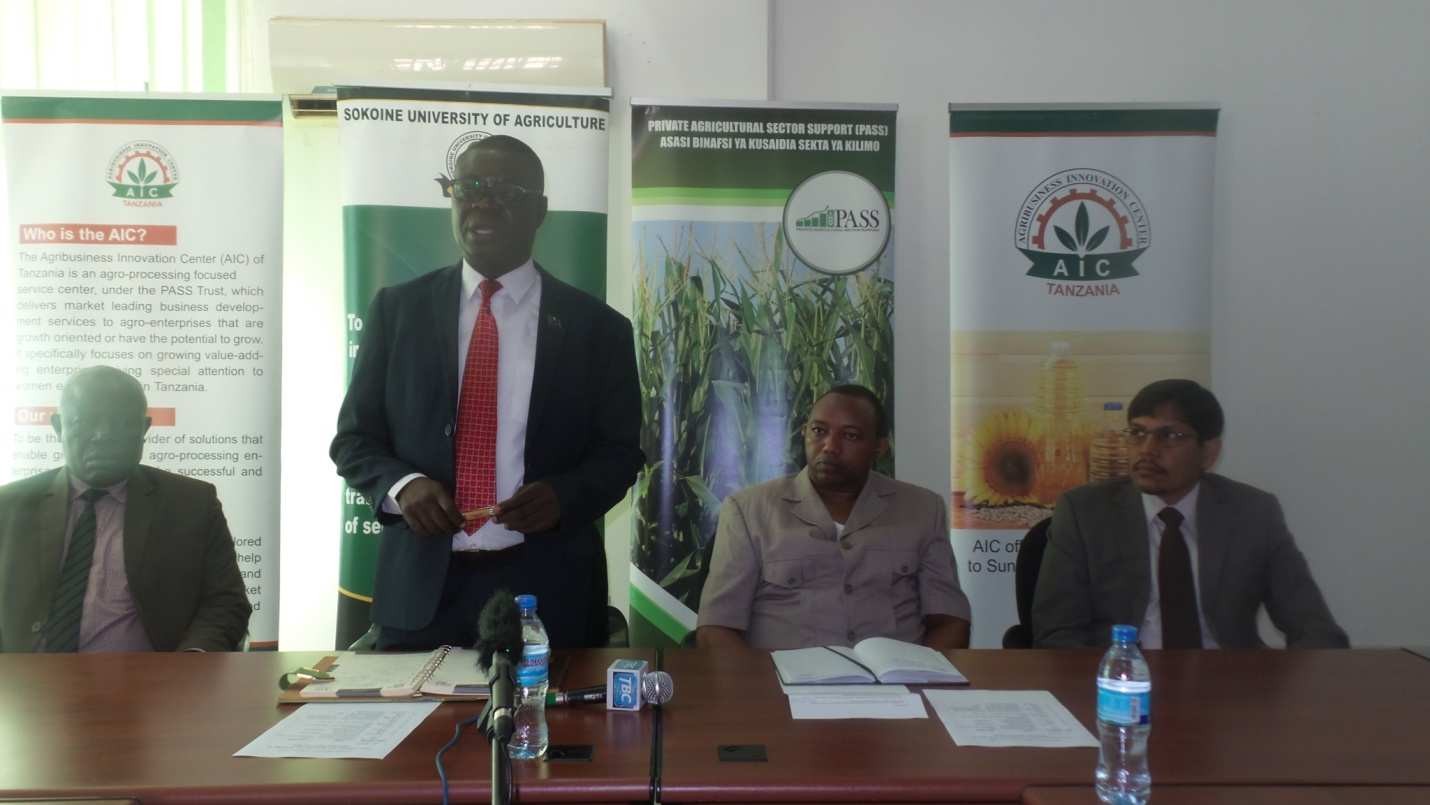 On the other side, Vice - Chancellor of Sokoine University of Agriculture Prof. Rafael Chibunda, said that the partnership between SUA and PASS has come in the right time and urged all graduates, young entrepreneurs as well as researchers at the university to take advantage of the opportunity because this is an opportunity to increase number of entrepreneurs who will be able to run and manage agribusiness project by themselves just after graduating and this will become a solution to employment challenges facing many graduates especially in agricultural sector.
This project will help our graduates by providing resources and area to implement what they have learned in class. This is very comforting as we have always been preparing our students to cope with life's challenges in the community through the education they received here … We are now giving them the opportunity to become entrepreneurs in Agriculture sector and this will help them as individual and the Nation at large. said Prof. Chibunda.
Prof. Chibunda added that the preparations for the Project implementation is ready and Program will start soon and that all Tanzanians will have the privilege of achieving their goals through this partnership and at large will further develop the agricultural sector in Tanzania.
ABOUT PASS TRUST
PASS Trust is an institution that helps farmers and pastors get capital in the bank so that they can invest in their agricultural activities and livestock. PASS operates with the following banks: TADB, CRDB, NMB, Bank of Africa (BOA), ACCESS Bank, Post Bank, Equity Bank, Vision Fund Micro-finance Bank, Mkombozi Commercial Bank, Kilimanjaro Co-operative Bank, Bank ABC, Bank M , AMANA Bank, AKIBA Commercial Bank and TIB.