Recent survey carried out in Dar es Salaam has revealed that between 1040 and 1400 t of green biowastes are generated daily along the streets, in open pits near house premises, in open markets and drainage channels (Simon, 2008). About 83 % of these biowastes are left uncollected or are not safely disposed or processed for other uses.

Biowastes  when remain uncollected in the streets or when unsafely disposed in open dump sites they are causing ground and surface water pollution on decomposition through leachates, bad smell, spread of disease vectors from open and uncovered dump sites, and lastly emission of methane which is a major greenhouse gas due to anaerobic conditions in the dump sites. 
The Project titled "Nitrogen Bio-Fortified and Pelletized Commercial-Grade Organic Fertilizer Made from Urban Bio-waste to Improve Soil Productivity and Livelihoods of Small Holder Farmers" saw this problem and came up with a tentative solution of adding value to these green biowastes through aerobic decomposition and fortification with bio-nitrogen followed by granulation into a pelletized organic fertilizer for smallholder farmers in Tanzania. 
The project expected to produce high quality but affordable organic fertilizer which will be opted for use by smallholder farmers to improve soil productivity and livelihoods. In the long term, the Project anticipated to assist in reducing environmental pollution; provide better air quality and a cleaner environment in Dar es Salaam. 
Besides, utilization of these wastes, the Project expected to significantly reduce the need for new landfills and save transport cost and time spent on dumping these biowastes to the landfills by relevant authorities.
Beneficiaries
Different stakeholders in Tanzania are benefiting directly and indirectly from this Project. Smallholder farmers are benefiting directly as users of the cheaper organic fertilizer for crop production. Similarly, the project is benefiting the youth directly through job creation in sorting, collection and transportation of the biowastes to the factory and production of organic fertilizer. 
With increase in product demand, the project is creating job opportunities for agro-dealers in product distribution. Also utilization of solid urban biowastes for fertilizer production is directly benefiting municipalities in Dar es Salaam by saving cost of transporting biowastes to landfills or establishing new ones. 
Dar es Salaam residents are also benefiting from a cleaner and greener environment. Hospitals and Health Centres are indirectly serving medicines that could have been used to treat patients affected by diseases associated with these biowastes. 
Collaboration
This is a regional project implemented by team members from Sokoine University of Agriculture (SUA) (Tanzania), University of Dar es Salaam (Tanzania), Makerere University (Uganda), Tursam Investment (Uganda), Tanzania Commission for Science and Technology (Tanzania) and Guavay Company Limited (Tanzania). 
SUA in this project is responsible for evaluation of the product (Biowaste fertilizer) through pot and field trials and to scale-up the use of this organic fertilizer through field demonstrations to selected groups of farmers and extension officers in Tanzania. 
Sponsor and Project duration
The Project is financially supported by Bioresources Innovations Network for Eastern Africa Development (BioInnovate Africa) Programme Phase II through the International Centre of Insect Physiology and Ecology (ICIPE) in Nairobi, Kenya.  It is expected to last for three years from 1/1/2018 to 31/12/2020 and it has a budget of US $ 88,278 set for SUA.
Fertilizer Preparation 
Collection, sorting and transportation of green biowastes to the factory at Gogolamboto in DSM are done by selected groups of youth (Plate 1). The Factory is managed by our Project partner Guavay Company Ltd. At the factory biowastes are decomposed, N from plant extract is added and thereafter they pelletized into granular organic fertilizer (Plate 2).  
Elemental compositions of the produced fertilizer were analysed at the Geological Survey of Tanzania in Dodoma. Potentially toxic heavy metals in this fertilizer were found to be within the tolerable limits for use in soil for crop production. Thus, this fertilizer is safe to use. It has total N of 2.5%.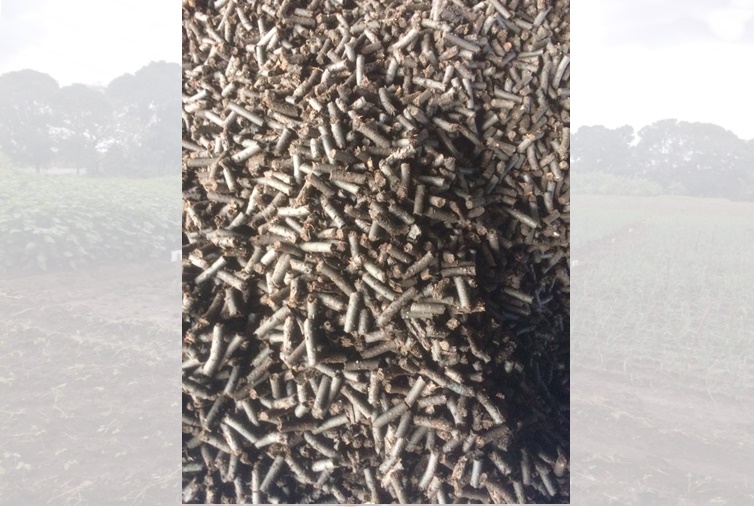 Plate 2: Pelletized and N-fortified
Pot and Field trials
Pot experiments (Plates 3&4) were carried out at SUA in screen house followed by field trials at TARI Tengeru in Arusha (Plate 5) and TARI Dakawa in Morogoro (Plate 6) and. Rice and maize were used as test crops at Dakawa while at Tengeru onion and black nightshade were used as test crops.
 

          
Plates 3 & 4: SUA MSc students working on pot experiments
Plate 5: Field trials at Tengeru. MSc student documenting onion growth performance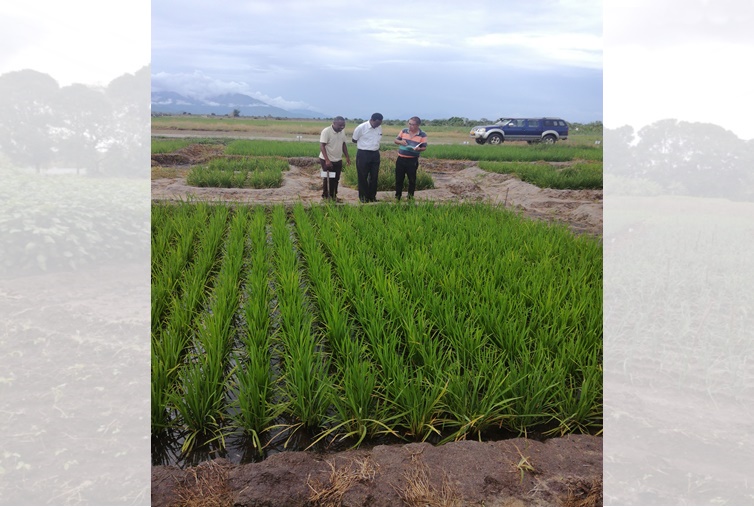 Plate 6: Prof. Msaky from SUA discussing with Msc student and Korean expert on rice growth performance applied biowaste fertilizer at TARI Dakawa
Key results
Both pot and field trials for maize, rice, onion and black nightshade indicated that the best growth performance and yield were obtained when pelletized organic fertilizer was used in   complementary with urea followed by sole application of urea and biowaste (Plates 7&8). 

                            
Plate 7: Msc student harvesting onion in a plot applied both biowaste & urea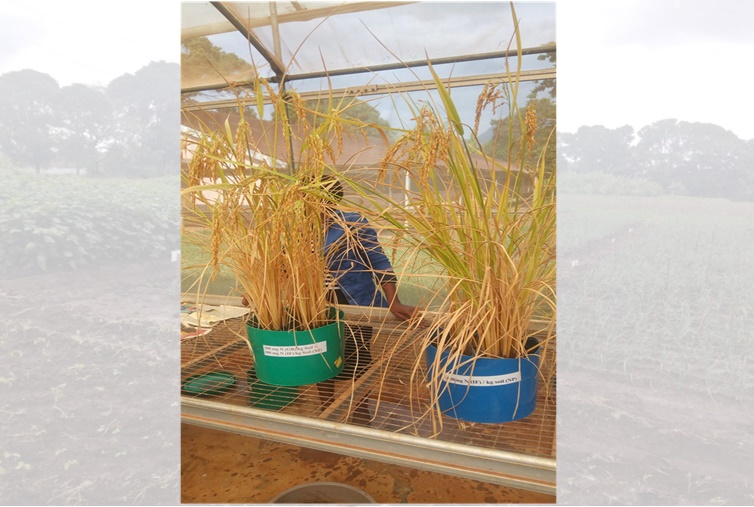 Plate 8: Rice at maturity in pot experiment on the left applied biowaste & urea and on the right is urea alone        
Field demonstration  
Field demonstration was carried out in September 2019 at Ruaha Mbuyuni in Kilolo district by growing onion in a farm of one of the champion farmers with the aim of scaling up the use of biowaste fertilizer in growing onion in their area. 
Forty farmers were invited to get explanation from SUA researchers and to evaluate themselves on the growth performance and yield of onion at the time of harvesting (Plates 9 &10). Farmers were very much impressed with the growth performance and yield of onion during that time of the year where most farmers do not grow onion because of diseases and drought. 
More demonstrations are planned to be carried out in Mbeya, Kilimanjaro and Mong'ola in Karatu to scale up the use of biowaste organic fertilizer in growing onion and rice in those areas.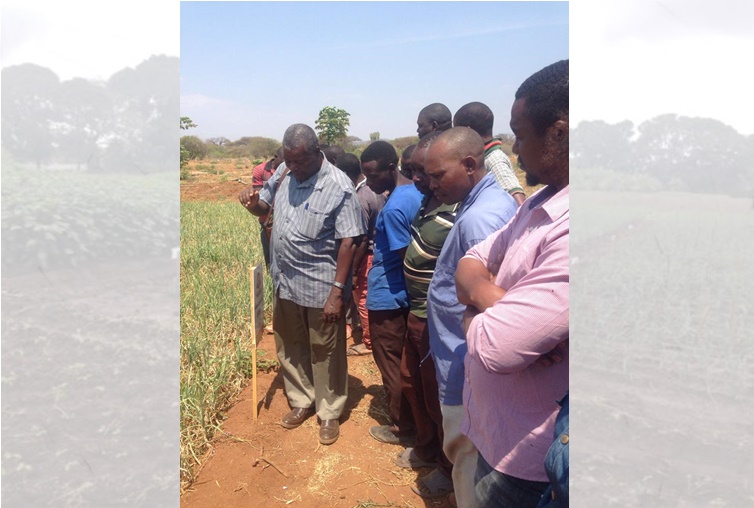 Plate 9: Farmers getting explanation from Prof. Marwa on the use of biowaste fertilizer in growing onion at Ruaha Mbuyuni in Kilolo district
 

      
Plate 10: Farmers participating in harvesting onion under the supervision of Prof. Rwehumbiza (with a bag at the back) at Ruaha Mbuyuni in Kilolo district during demonstration

Project Achievements
Capacity building to young scientists: Two Msc students supported by this Project have completed their studies at SUA by submitting their dissertations for examination. 
 
Onion farmers at Ruaha Mbuyuni in Kilolo district have ordered 450 bags of biowaste fertilizer from our partner Guavay Company Ltd in DSM for use in growing onion next growing seasons. Guavay Company Ltd will directly supply them without passing through agro-dealers. Agro-dealers at Ruaha Mbuyuni have shown interest of ordering more organic fertilizer directly from the factory for selling to other farmers. 
Story Credits
Prof.  Marwa, Ernest Melkiory,
Prof.  Rwehumbiza, Filbert Balthazar and
Prof.  Msaky, John Joseph
For more information about this project, contact ;
Department of Soil and Geological Sciences, 
Sokoine University of Agriculture, 
P. O. Box 3008, Morogoro, Tanzania
send an email to project coordinator via: emarwa@sua.ac.tz