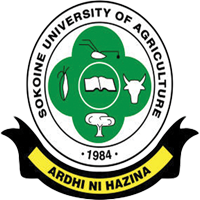 DIRECTORATE OF POSTGRADUATE STUDIES, RESEARCH, TECHNOLOGY TRANSFER AND CONSULTANCY
Sokoine University of Agriculture (SUA) in collaboration with the Technical University of Denmark– National Institute of Aquatic Resources (DTU- Aqua) is implementing a research project in aquaculture under the Building Stronger Universities Initiative phase III (BSU III). BSU III is funded by the Danish International Development Agency (DANIDA). BSU III aquaculture project is hosted in the Department of Animal, Aquaculture and Range Sciences at SUA. The objective of the project is to improve fish production from aquaculture through enhanced research, outreach and teaching capacity. The partnership intends to build capacity of aquaculture research and outreach in Tanzania and foster relevant human capacity development with appropriate knowledge and skills to conduct relevant research that can spearhead sustainable development of aquaculture in Tanzania. One of the immediate objectives of the project is to train PhD students as part of capacity building.
Sokoine University of Agriculture is hereby advertising one position for PhD studies in aquaculture. The PhD research will focus on developing a recirculating aquaculture system (RAS) ideal for Tanzanian conditions using locally available biofilters. Successful candidate will register at SUA and develop a full proposal for a period of not more than six months. Upon approval of the proposal, the candidate shall conduct his/her research work at SUA, Tanzania and at DTU‐Aqua, Denmark. The project will cover all costs including travel, living expenses, medical fees, university fees and all research costs. The PhD programme will be for four years (2018 - 2021).
Eligibility criteria and Mode of application
The applicant must be a citizen of Tanzania.
A Bachelor's degree in any natural science programme with a minimum GPA of not less than 3.8.
A Master's degree in Aquaculture and/ or Fisheries.
The Master's degree must have been completed less than six years ago at the time of application.
Preference will be given to applicants with the age of not more than 40 years.
The applicants should meet the requirements for PhD admission at SUA. The requirements for PhD admission are available at the SUA website from Directorate of Research, Postgraduate studies, Technology transfer and Consultancy (DRPTC) webpage https://www.dprtc.sua.ac.tz/
Applicants for the scholarship should submit a research concept note along with the application letter and degree certificates and transcripts.
Applicants must indicate Department of Animal, Aquaculture and Range Sciences as the host department which shall coordinate the PhD training.
Submission by email can be made to drpgs@sua.ac.tz and copied to chenya@sua.ac.tz / chenyasw80@gmail.com
MODE OF APPLICATION
Application forms for admission can be requested from the undersigned or downloaded from our website: https://www.dprtc.sua.ac.tz/postgraduate-studies/application-for-admiss…. Such dully-filled forms can be returned physically or mailed to the undersigned together with evidence of payment of Shs. 50,000/= or 20$ for foreigners, as application fee. Payments should be made through A/C NO. 0150076769860 CRDB Bank.Swift Code No CORUTZTZXXX.
Deadline for application for admissions and scholarship application is 31st December 2018
FOR FURTHER INFORMATION, PLEASE CONTACT
THE DIRECTOR,
DIRECTORATE OF POSTGRADUATE STUDIES,RESEARCH, TECHNOLOGY TRANSFER AND CONSULTANCY
SOKOINE UNIVERSITY OF AGRICULTURE,
P.O. BOX 3151, CHUO KIKUU,
MOROGORO, TANZANIA.
Telephone:+255 023-264 0013, Fax: +255 023-264 0013,
E-mail: drpgs@sua.ac.tz,
Website: https://www.dprtc.sua.ac.tz/